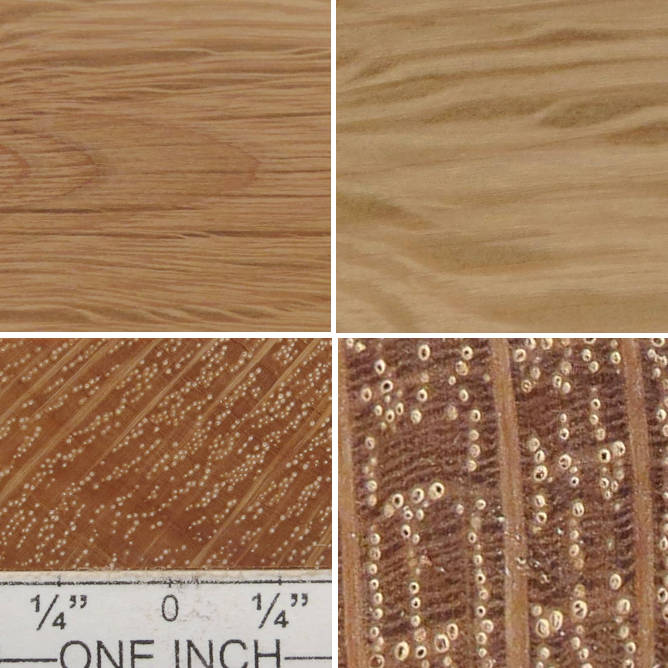 live oak / Quercus spp. (primarily Quercus virginiana)


2" x 2" flat cut, 1" x 1" quartersawn, 3/4" wide end grain, and a 1/4" x 1/4" end grain closeup. Live oaks have far less of a "typical" or "standard" face grain look than other red and white oaks so the faces shown here are not necessarily terribly representative.

Semi ring porous (sometimes looking just diffuse porous because of weak growth ring boundaries) rather than ring porous like normal red and white oaks. It has pores in radial strands, sometimes in dendritic groups, usually (but not always) weak growth ring boundaries, strong rays, and banded parenchyma.

Primarily Quercus virginiana of the family Fagaceae, but includes at least all of the species listed below this table and very likely quite a few more. In the USA, it is quite common for people to mistakenly believe that "live oak" ONLY means Quercus virginiana because that species is the most commonly mentioned live oak in the USA.

The live oaks come from both the white oak group and the red oak group --- the term "live" oak is because the leaves on these species remain green and "live"-looking throughout winter when other oaks in both the red and white groups are dormant, leafless and "dead"-looking. I have it anecdotally that some trees in some of the live oak species do actually drop their leaves in the winter.