open main page for all woods          open page 2 for articles



COLLECTION C



Description of Collection C is in progress

A collection of 35 samples pulled out of collection B because these samples are not the same uniform size as those in collection B but rather are 3 different sizes. Like collection B, these have only a common name stamped on them but unlike collection B where there were only a few woods I could not identify at least by genus, about 1/3 of these are woods that I cannot identify and that have been put on the mystery woods page.

Following my method for collection B, I have used these as an excellent opportunity to show how the surface aging of the wood is just that ... SURFACE aging. On each of these I removed 1/8" from one face and then sanded it smooth and I have before and after pics of that surface in each case, showing how the surface aging (on all but a few wood such as black locust) does not go even 1/8" into the wood. I have also sliced off 1/8" from one end and then done my fine sanding (1200 grit) on them for the "end grain update" pics for the anatomy pages on this site.

A lot of care was taken in stamping the names into the wood. I'd love to know where these were processed. This kind of stamping likely hasn't been done in a long time so I think these are pretty old. That is, the surface aging alone suggests at least a decade or two but I would not be surprised to find that these were made around 100 years ago.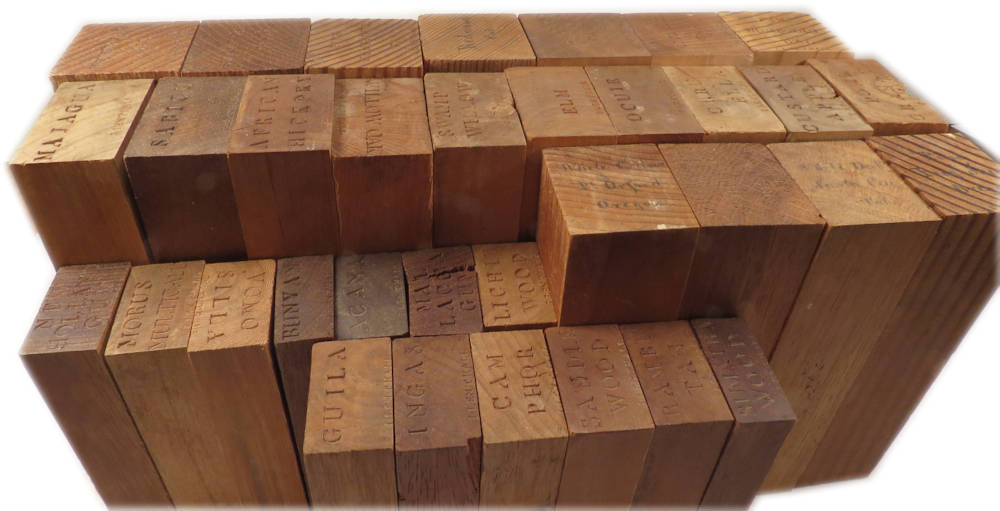 the collection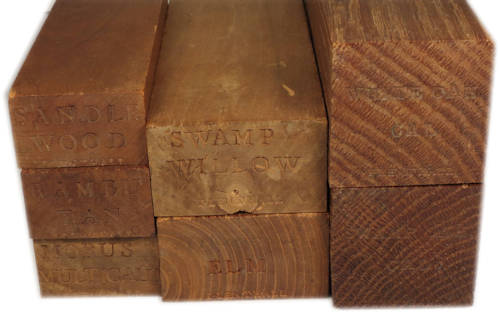 a closeup of the stamping on a few pieces. As you can see, there is a name stamped along the bottom edge. It is I. LENTHALL. I have tried, unsuccessfully, to find out who this was.




Here's a closeup of one of the edge stamping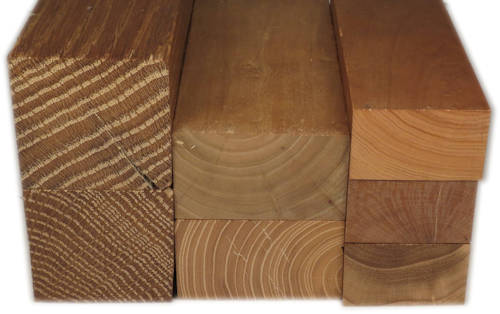 The other end of the piecs shown above with the end grain common name stamping

A list of the woods in this collection. The ones with "???" will either be on the mystery wood page or not in the main pages at all
acana ???
bunyan ???
camphor (Cinnamomum spp)
cedar, white (Cedrus alba)
ciruella (Astronium spp)
custard apple [identical to "pomegranate"] and both are ???
elm (Ulmus spp)
fir (Abies spp)
guila ???
ingas ???
laurel from california (unknown species, not Umbellularia californica)
lichie wood ???
majagua (Hibiscus spp)
mallacca gum ???
mulberry, white (Morus alba)
New Holland gum ???
oak, live (Quercus spp.)
oak, swamp (Quercus spp.)
oak, white (Quercus spp.)
oak, white (Quercus spp.)
oak, white (Quercus spp.)
oak, willow (quercus palustris)
ocuje (Calophyllum spp)
pine (Pinus spp)
pine (Pinus spp)
pomegranate [identical to "custard apple"]
rambutan (no idea what species)
redwood, california (Sequoia sempervirens)
sabicu (Peltophorum spp)
sandlewood (no idea what species) ???
south african hickory (Cavacoa aurea)
sumatra wood ???
vomosilla ???
willow, swamp (Salix spp)