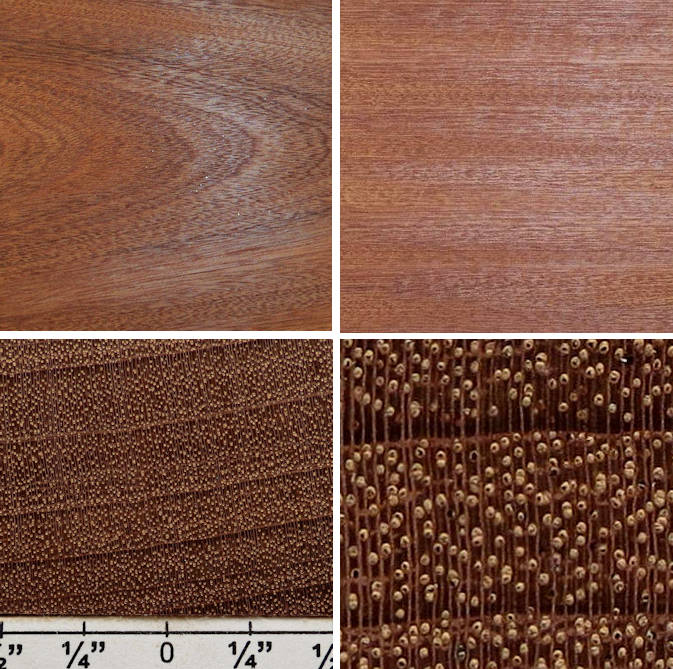 sapele / Entandrophragma cylindricum


5" x 5" flat cut, 5" x 5" quartersawn, 1" wide end grain, and a 1/4" x 1/4" end grain closeup.

Diffuse porous with moderate sized pores, randomly spaced and with vasicentric parenchyma and frequent pore multiples. Occasional banded parenchyma (sometimes a lot of it), sometimes seemingly marginal parenchyma, often a lot of diffuse-in-aggregates parenchyma. Rays are usually obvious at 10X, rarely with the naked eye. There is a lot of variation in end grain characteristics between pieces.

There may be other woods that have as wide a variety of figure as sapele, but I'm not aware of any. As you'll see below, there's flat cut and quartersawn, with a fairly normal distinction between them but that's just the start. Then there's quilted, pomelle, figured, fiddleback, striped, blistered, wavy, and on and on, including COMBINATIONS of quilted and pomelle and others. This is particularly true of the veneer of this wood and I have read that some of the variation in veneer figure does not exist or is very weak in lumber, as the veneer shows certain types of figure in a way that lumber does not (and this does not even count rotary cut veneer, which is of course not available at all in lumber), but this caveat does not ring true to me and I have seen many web-pics of stunningly figured sapele lumber.