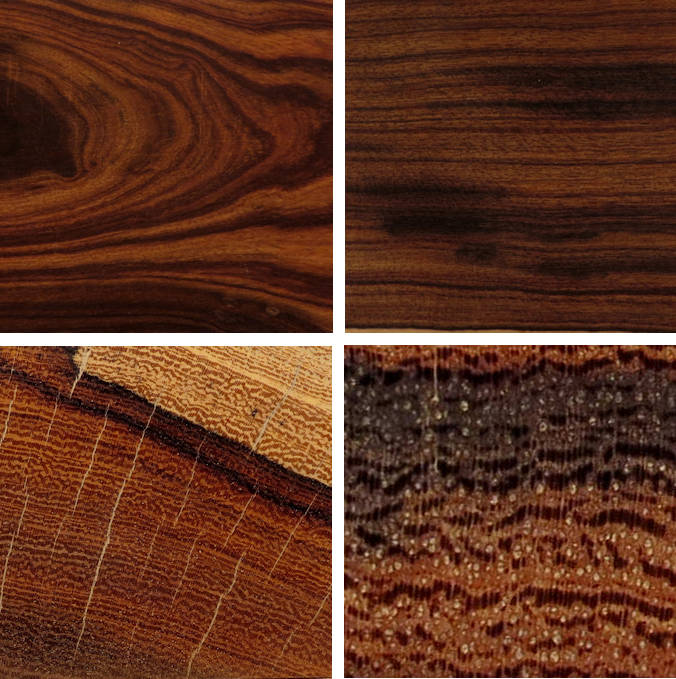 desert ironwood / Olneya tesota
of the family Fabaceae (syn. Leguminosae) the legume, pea, or bean family


3" x 3" flat cut, 3" x 3" quartersawn, 1" x 1" end grain, and a 1/4" x 1/4" end grain closeup.

Diffuse porous with medium to large sized pores that are surrounded by heavy vasicentric parenchyma that mostly merges into bands of confulent parenchyma. Radial pore multiples, occasional banded parenchyma, rays are small to medium and easily visible at 10X, growth ring boundaries are indistinct. Commonly has variegated dark/light bands, heartwood/sapwood boundary is very sharp and sapwood is very light colored.

This wood is extremely hard, brittle and cracks easily and all that combined with the very small size of the tree mitigate strongly against any veneer production from the species. It will not float, is VERY hard to work with hand tools (pretty much impossible) but takes a fabulous finish when worked carefully and slowly with very sharp power tools. Highly favored for scales to use as pistol and knife handles.

Barry Richardson on The Wood Barter Forum says: "In drought years they don't bloom, and can even go kinda dormant. This is one reason it is so hard to judge the age of the trees; some years they don't make growth rings. As far as my research, no one really knows how long they live, I've seen claims from 400 years to over 1000. They can be over 2 feet [diameter] at the base, but trunks are usually short and split into multiple branches a few feet up. "