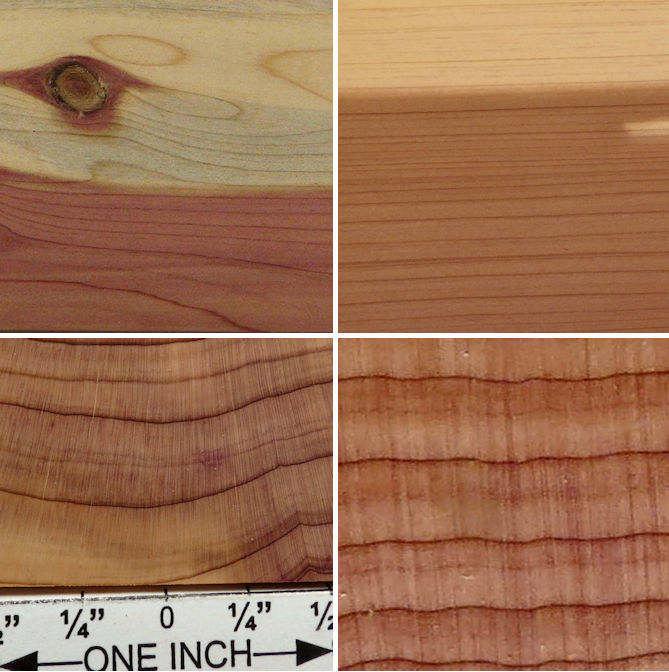 aromatic red cedar / Juniperus virginiana
of the family Cupressaceae, the cypress family
(technically, this is Eastern redcedar)


3" x 3" flat cut, 3" x 3" quartersawn, 1" wide end grain, and a 1/4" x 1/4" end grain closeup.

The more technically correct name is Eastern redcedar (NOT "red cedar" but "redcedar") but lumber stores are far more likely to call it aromatic red cedar, so that's what I call it. Actually even that is not quite right, since it should be "aromatic redcedar" with no space but it just isn't often used that way. To further confuse things, it isn't really a cedar at all, but as is indicated by the genus name (Juniperus) it is variety of juniper which is part of the cypress family.

A somewhat brittle, albeit relatively soft, wood that works quite well if you can avoid chipout. It tends to have a lot of knots and sapwood and also it is unusually susceptible to blue stain. For that reason, I've chosen a representative flat cut pic (directly to the left) with both a knot, some sapwood, and blue stain.

This is the wonderfully aromatic wood that people put in closets and dresser drawers to make things smell good and to mask the smell of wool so that moths don't deposit their larvae in it (it is the larvae that eat the wool, not the moths themselves).

After exposure, the smell fades but it can be restored with some sanding. Also, the color fades quite badly with exposure to UV and oxygen and untreated old aromatic red cedar will generally be very pale, dull pink or even just tan, even if it started out as a fabulous reddish-purple (and fresh-cut wood color can be a real pleasure to behold as can be seen in many of the pics below). A finishing agent with a UV blocker will slow the process but over enough time even that isn't much help.