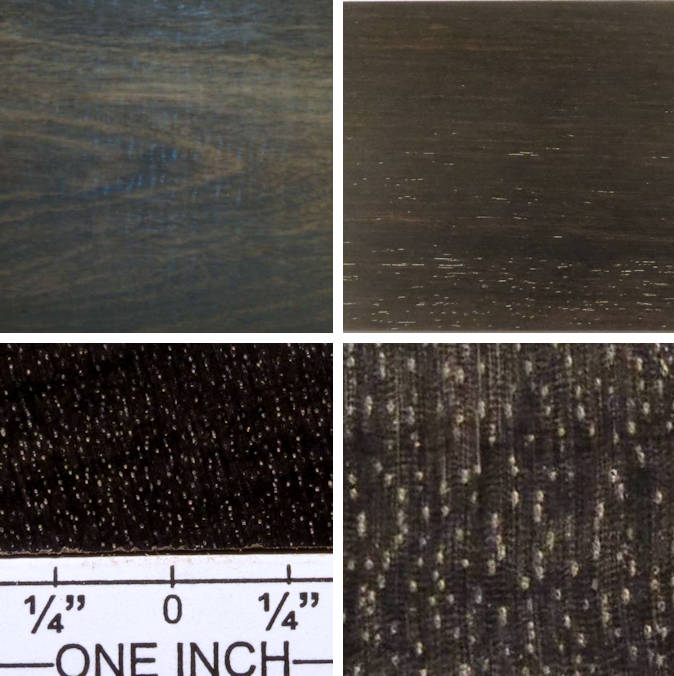 Gaboon ebony / Diospyros spp.
(most commonly Diospyros crassiflora)


although frequently advertised as "Nigerian" ebony, it is my understanding that "Gaboon" is the more correct term, although some reports say that it's just a matter of giving it a country name, such as Nigeria or Gaboon and that they're all the same "African ebony" or "black ebony".

3" x 3" flat cut, 2" x 2" quartersawn, 3/4" wide end grain, and a 1/4" x 1/4" end grain closeup.

Diffuse porous with small, randomly positioned pores. Growth rings are not discernible. Banded parenchyma throughout, but may be hard to see even at 10X. Rays occasionally visible at 10X. Generally, it's difficult to clean up the end grain enough at the shop level to really see the tissues clearly because the background is so dark.

This is the wood that folks not familiar with wood mean when they say "ebony". It generally has areas of ink black with lighter streaks. Only a small percentage of logs produce the highest quality jet black ebony and most contain 50-70% sapwood with deep heart checks and voids. It's a very hard wood and costly to produce, which makes it a rare species to obtain. It is moderately difficult to work with some tendency to chip out and split but it glues satisfactorily, turns extremely well and takes a polish like glass. See the "Fact Sheet" for more details.