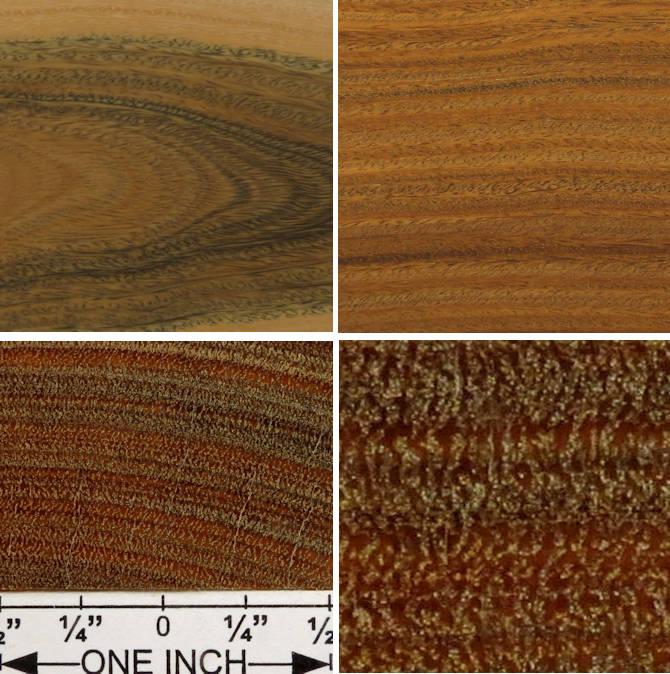 verawood / Bulnesia arborea and Bulnesia sarmientoi
of the family Zygophyllaceae


Another widely used name for this wood is "Argentine lignum vitae" but this wood is not related to true lignum vitae and is very easy to distinguish from it (see the link below this box)

2.5" x 2.5" flat cut, 2.5" x 2.5" quartersawn, 1" wide end grain, and a 1/4" x 1/4" end grain closeup.

Diffuse porous with with moderate pore size and density and pores arranged in dendritic groups. Rays are not visible. The face grain generally, as in these samples, clearly shows the "feathering" / "herringbone" characteristic of interlocked grain. The wood is very hard and dense (it sinks in water) and is so waxy that is clogs sandpaper pretty quickly and can be hard to glue. I have found it very pleasant to turn on the lathe and most reports agree that it is easy to turn but say it is otherwise hard to work.

Color change is a bit weird in that it sometimes starts off brown and then turns green and other times starts off green and turns reddish brown. Both of those are exhibited on this page. I have no explanation for this radical difference in color change except that perhaps it is the difference between Bulnesia arborea and Bulnesia sarmientoi.